Privacy Policy
Updated: April 2021
Your privacy is important, so we created this privacy policy ("Privacy Policy") to help you understand how we collect, store, use, or disclose your personal information. This Privacy Policy applies both offline (for example, if we interact with you in person, over the phone, or by mail) and when we interact with you through our online services, including but not limited to our websites, chatbot, email correspondence, and any other online services that we link to this Privacy Policy.
This Privacy Policy applies to all these websites, so it is possible that some of the features that we describe here are not available on the website that you are currently navigating. We may have to change this Privacy Policy to reflect new regulations, new technologies or changes to how we collect, use or disclose your personal information. We reserve the right to change this Privacy Policy at any time at our sole discretion. The date of the most recent revisions will appear at the top of this page. By using our online services, you confirm that you have read and agreed to our Terms of Use and accept and consent to the practices described in this Privacy Policy. If you do not agree with this Privacy Policy, please do not use or access the website, and if you do not agree to any changes we make in the future, you must end your use of the website and its available services. Any changes will become effective as soon as they are posted to our website.
What do you mean by personal information?
Personal information means information that identifies, relates to, describes, is reasonably capable of being associated with, or could reasonably be linked, directly or indirectly, with an individual or household. We do not consider personal information to include information that has been de-identified so that it does not allow a third party to easily identify a specific individual. Your name, e-mail address, and IP address are all examples of data that may be personal information. Since your IP address can help us identify you, we treat "cookies" as personal information.
What personal information do you collect about me?
We collect and store personal information directly from you when you interact with us in person or via social media, or when you submit it to us online on our websites, by phone, by email, or through our chatbots, including when you place orders on or through our websites. Categories of personal information that we collect about you when you interact with us online or offline may include the following:
Identification data, including name, address, birthday and gender;
Contact information, including e-mail address, phone number, and mailing address;
Age data, as we need to know if you are over the legal age so that we can sell you our products;
Information you provide to create an account, including password and username;
Information you provide when you speak to us over the phone, such as inquiries about product preferences or other personal information you choose to communicate to us;
Location data, for example, you can enter your zip code to know where to find your favorite products near you;
Membership data, such as contact preferences;
Financial data, such as credit card numbers, billing addresses, contact details of your accounting department, and other financial information required to allow you to acquire our products;
Order information related to products you have purchased through our websites;
Preference data, such as the flavors that you prefer and products you have purchased;
Information you share with us in connection with surveys, contests, or sweepstakes and promotions (including text-to-win contests) (collectively, "contests and promotions");
Information you submit to us directly via email or other communication methods including, but not limited to, general inquiries, media inquiries, and customer support.
We may also collect your personal information from other sources, such as our partners and affiliates, and through automatic collection through our websites and emails.
Internet activity and other electronic data, such as your IP address, device ID, and personal information collected from cookies and similar technology when you open our emails and visit our website (for more information about cookies, how we use them, and your related choices.
Information we get from our partners or affiliates to support our marketing initiatives, administer our contests and promotions, improve our website functionality and services, and monitor, manage, and measure our advertising campaigns;
How do you use my personal information?
We use the above categories of personal information to support our typical business activities (including compliance with legal obligations, security, and anti-fraud purposes), and to provide services to our customers, such as to:
Respond to your requests, for instance, if you use the form "Contact Us" on our website;
Offer you a tailored version of the website;
Manage and administer our website;
Improve our products or services;
Notify you about changes to our legal terms or business practices;
Get in touch with you after you submit an inquiry;
Evaluate your resume and process your job application, if you applied through our Careers page;
Process your orders and deliver our products to you, where applicable. For instance, we may sell you merchandise with our logos through an e-commerce platform;
If you join our mailing list, we will send you promotional information on our products.
Display advertisements related to products we think may interest you on our websites, in e-mail communications you consent to receive, on other websites that work with our advertising partners, and on social media platforms;
Invite you to participate in surveys on your satisfaction with our products;
Administer, maintain, and communicate with you about contests and promotions in which you have chosen to participate;
If you are navigating our website, you may interact with our chatbot through Facebook Messenger, in which case, this bot will answer your questions based on the information that it collects about you.
How can I opt-out of receiving marketing e-mails?
We may communicate with you through e-mail for marketing and promotional purposes. When you receive such communications, you can always unsubscribe using the link in the e-mail.
Alternatively, you can reach out directly to us and we will help you out: info@balisip.com.
How do you protect my personal information?
We strive to implement reasonable measures to protect your personal information against unauthorized access or use. For example, the password you provide when registering on our website is encrypted to protect against unauthorized access to your personal information. We also use PCI DSS compliant third parties when processing your credit card information. However, we cannot guarantee with 100 percent certainty that your personal information will be secure from theft, loss, alteration, misuse, or unauthorized access, nor do we make any representation as to the reasonableness, efficacy, or appropriateness of the measures we use to safeguard such information. We are not responsible for any attempt made by a third party to circumvent our privacy and security protocols. While you are responsible for maintaining your own passwords, please immediately contact info@balisip.com in the event that you feel the security of your account has been compromised.
Who will access my personal information in your organization?
We only allow our employees to use your personal information on a need-to-know basis. Our employees handling personal information are subject to confidentiality agreements.
Do you share my personal information with third parties?
We may share the categories of personal information described above with service providers that we partner with to assist us in various functions, including providing technological support and performing security and anti-fraud services, providing you with our services and products (including helping us to administer contests and promotions), and providing you with communications and marketing information on our behalf.
These service providers can be classified in the following categories:
Delivery partners, to deliver our products to the right location;
Financial partners involved in the processing of your banking or credit card data on our website;
Marketing partners, which we use to display advertisements and/or, with your consent, to send you promotional communications;
Promotional vendors, who help us to administer contests and promotions in which you may choose to participate, including by maintaining separate contest and promotion microsites;
IT service providers, such as our data hosting provider;
Other service providers that we may engage to provide services to us or on our behalf.
If you apply to a job opportunity, you will be required to create an account on a third-party applicant tracking system ('ATS'). During the recruitment process, we may use this ATS to compare and rank candidates, set up screening questions, create interview notes, send you meeting requests and messages, and if you are successful, send you an offer letter. Once you accept this letter, your applicant profile will be transformed into an employee profile, and you will be subject to our Employee Privacy Policy.
We may have to share your personal information if necessary, in our judgment to comply with laws or regulations or in response to a subpoena, warrant, or legal order, or to protect our rights or the rights of others. When we receive such requests, we do all necessary verifications to ensure that they are lawful. We reserve the right to transfer your personal information to a successor entity (or potential buyer) if we sell or transfer our business operation. We reserve the same right in case of merger, acquisition, bankruptcy, reorganization or sale of assets. In addition, in the event we become the subject of an insolvency proceeding, whether voluntary or involuntary, we or our liquidator, administrator, receiver, or administrative receiver may sell, license or otherwise dispose of such information in a transaction approved by the court.
This website may include links to third parties, including social media. If you click on these links, you are leaving our website and the collection, use and disclosure of your personal information will be subject to these third parties' privacy practices, terms of use, and other contractual documentation listed on such websites.
---
Where will my personal information be stored?
When we share your personal information with our trusted partners, they may store some of your personal information in their databases in the United States, or elsewhere in the world. If you are accessing this website from jurisdictions outside the United States, please be advised that you may transferring your personal information to us in the United States where data protection and privacy laws may be less stringent than the laws of your country.
BY USING OUR WEBSITE, YOU CONSENT TO THE TRANSFER AND USE OF YOUR PERSONAL INFORMATION IN ACCORDANCE WITH THIS PRIVACY POLICY.
How long do you keep my personal information?
We will retain your information for as long as needed to provide you the website's services, for our valid business purposes, and as necessary to comply with our legal obligations, resolve disputes, defend our legal rights, and enforce our agreements.
Requests for Deletion and to Know About Information Collected
When you make a privacy rights request under California law, we may require that you provide information and follow procedures so that we can verify the request and your jurisdiction before responding to it. The verification steps we take may differ depending on the request you make. We will match the information that you provide in your request to information we already have on file to verify your identity. If we can verify your request, we will process it. If we cannot verify your request, we may ask you for additional information to help us verify your request.
California consumers will be required to submit their first and last name and email address and may also be asked to provide their telephone number, address, or other identifying information so that we can verify the request. Please provide as much of the requested information as possible to help us verify the request. We will only use the information received in a request for the purposes of responding to the request.
Updating Your Information
To keep your personal information current and accurate, please contact us as specified below. We will take reasonable steps to update or correct personal information in our possession that you have previously submitted via this website.
Who may use this website?
The website is not directed to, and we do not knowingly collect personal information from, persons under the age of 21. We do not knowingly collect or store personal information from anyone under the age of 21. ANY PERSON WHO VISITS ANY PORTION OF THE WEBSITE REPRESENTS TO US THAT HE OR SHE IS 21 YEARS OF AGE OR OLDER AND MUST IMMEDIATELY LEAVE THE WEBSITE IF UNDER THE AGE OF 21.
How do we protect children's privacy online?
Although we do not knowingly collect or store personal information from children, if we learn that we have collected personal information from a child under age 13 without parental consent, we will delete that information as quickly as possible. If you believe that we might have any information from or about a child under 13, please notify us at info@balisip.com
---
How can I reach you if I have more questions, concerns or any inquiries?
You can always reach out to us by e-mail at info@balisip.com, our privacy officer will get back to you as soon as possible.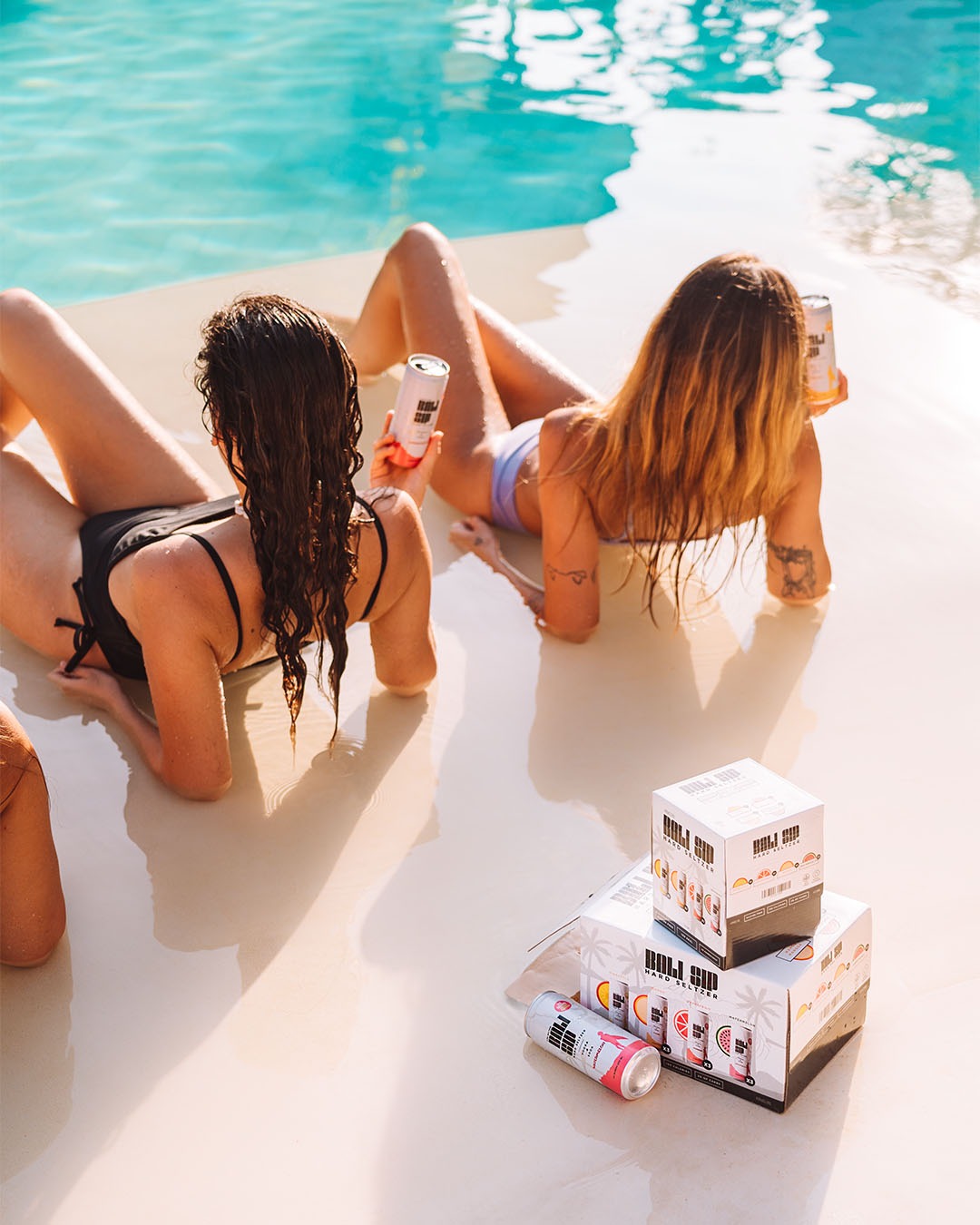 Bali Sip Hard Seltzer is Indonesia's first hard seltzer. Each Sip contains a refreshing blend of carbonated water and Bali Sip's Proprietary blend with a light fruit flavouring. Bali Sip Hard Seltzer is the perfect beverage to compliment your active and healthy lifestyle as it contains only:
- 100 calories
- 2 g's of carbohydrates
- Vegan
- Gluten Free

Single can variety comes in 4 flavour option
• Mango• Grapefruit• Pineapple• Watermelon